Maria Menounos and Child at her "Day of Beauty" Event in Los Angeles.
Hello NB Blog Reader's,
As most of you already know days of giving warm my heart more than anything else. When you can use your creativity and talents to make a difference in the lives of other people who are struggling, you know you have contributed something truly special to this planet, thus continuing to tip the scale of good in a bigger way. Since I personally have not yet been able to attend one special yearly event in Los Angeles created and hosted by my long time dear friend Maria Menounos, I did want to give it recognition by writing about it!
On June 28th, 2013, Maria Menounos's non profit organization called, Take Action Hollywood! hosted their 7th annual Day of Beauty at Children's Hospital Los Angeles in the Teen Lounge. EXTRA Host, Actress and NY Times Best-Selling author Maria Menounos and her team of Make-up Artists and Celebrity friends spent the day giving makeovers and distributing gift bags to all the participating teenage patients and their families. Children's Hospital Los Angeles is a nonprofit, academic pediatric medical center and research hospital that treats more than 97,000 children each year with everything from broken bones to the rarest and most complex pediatric health issues. Ranked among the top five children's hospital's in the entire nation, Children's Hospital Los Angeles proves the highest quality healthcare for children from southern California and around the globe-all in a family-centered setting designed just for their needs.
Take Action Hollywood! receive's help from a number of companies who sponsor this Day of Beauty. These sponsors have included Participating brands and major film franchises and production companies including: Warner Brothers, World Wrestling Entertainment, Inc., Seth MacFarlane's Fuzzy Door Productions, Vin Diesel's One Race Productions, Stan Lee's POW Entertainment, AfterbuzzTV and Extra, as well as event support from the LPB Group. Other participating brands include The EveryGirl's Guide to Life, 3LAB Perfect Lips, Abella Skincare, ACTIVATE Drinks, Alex & Ani, American Girl, iTunes, April Marin, Best Beauty, Burt's Bees, Camilla Olson, the Cashmere Agency, X-mini, Cetaphil, Charmsies, Children Mending Hearts, Colorescience, Contraband Hats, Massi, FOM Brands, Go Girl Energy, Gurwitch Products, Laura Mercier, Heart Calgon, Jerry Leigh Clothing, Junk Food Tees, the Kardashian Kollection, Kiss Nail Dress, Kitsch Hair Accessories, L'Oreal,  the LA Dodgers, LA Girlfriend, LPB Group, Lia Sophia, Lighthouse Beauty, Lippe Taylor, Michele Marie PR, Shadow PR, Mommy's Bliss, NYX Cosmetics, OPI, the Pail and Shovel, Pandora Jewelry, Penny Laine Papers, Pevonia International, LLC, Philips Sonicare HealthyWhite, Pirate's Booty, Pistol and Stamen PR, PURE Fruit Snacks, RADIUS, Red Bull Records, RevitaLash Voluminizing Mascaras, Rickland Orchards, Samsung, The Unicorn Adventures, Viva Beads, wet n wild, Whitening Lighting Gloss, BHUMI Makeup brushes, Ultimate Face Cosmetics, Stila palette, Roz May Public Relations, The A List,  Michele Marie PR, Women's Health Magazine, Spin Master Toys and Backstage Creations.
The yearly teen lounge provides opportunities for teens to enjoy age-appropriate activities, such as exploring the Internet, playing video games, watching movies, and listening to music.
The space welcomes all youth and young adults ages 12 and up, who are injured or who are suffering with acute or chronic illness. All other units in the hospital who are able to leave their rooms and socialize can join in too. For those who are bed ridden, Maria goes room to room cheering them up.
Maria's mission of Take Action Hollywood! Inc: utilize the power of the entertainment industry as well as the medium of production to educate, empower and raise social awareness to effect positive social change.
GO MARIA!
Wishing you, your volunteer's, the children and their families many more spectacular "Day's of Beauty"!
Much love always,
NB! Xo
Follow me on Facebook for all Nicole Bryl Make-up New York photos.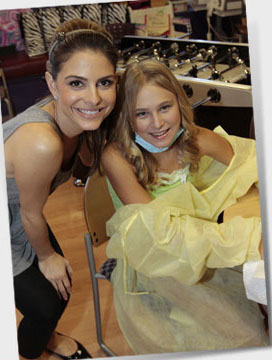 Maria Menounos and Child at her Annual "Day of Beauty" Event in Los Angeles.
INTERVIEW WITH MARIA MENOUNOS BY: NICOLE BRYL MAKE-UP NEW YORK
NB: MARIA, ONE OF THE QUALITIES I LOVE BEST ABOUT YOU IS YOUR TRUE LOVE FOR HELPING THOSE IN NEED. WE HAVE ALWAYS SHARED THAT COMMON BOND OF HUMAN INTEREST. WHAT MESSAGE WOULD YOU LIKE TO SEND TO THOSE INDIVIDUALS WHO HAVE NOT YET DISCOVERED A WORLD OF PHILANTHROPY THAT COULD PERHAPS INSPIRE AND AWAKEN THAT SIDE OF THEMSELVES?
MM:  It is chicken soup for your soul.  You get so much more in return when doing charity work. When you are depressed its one of the best cures. If you are single or lonely its the best way to meet like minded, good people. Get out there and volunteer for a good cause. You won't be sorry.

NB: IN NY, MARY ALICE STEPHENSON'S "GLAM4GOOD" MOVEMENT IS ON THE RISE USING FASHION TO TRANSFORM THE LIVES OF EVERYDAY HERO'S. IN LA, MARIA MENOUNOS'S "TAKE ACTION HOLLYWOOD!" IS UTILIZING THE POWER OF THE ENTERTAINMENT INDUSTRY TO EDUCATE, EMPOWER AND RAISE SOCIAL AWARENESS. WHAT WERE SOME OF THE INCIDENCES IN YOUR LIFE THAT DROVE YOU PERSONALLY TO CREATE THIS MASSIVE COMMUNITY?

MM:  I had always volunteered for causes growing up but when I came back from South Africa, seeing the AIDS epidemic, I felt I had to do something bigger. I remember telling my boy friend Keven Undergaro 'we have to do something' and the next day we created Take Action Hollywood!

NB: I KNOW ALL TOO WELL WHAT A DAY OF BEAUTY CAN MEAN TO SOMEONE WHO HAS BEEN SUFFERING IMMENSELY. HAVING MYSELF DONATED MAKEUP TIME TO MANY ORGANIZATIONS THROUGH THE YEARS, I AM FOREVER INSPIRED EVERY TIME I HAND A PERSON A MIRROR AFTER THEIR MAKEOVER AND SEE THE EXPRESSION OF TEARFUL JOY BECAUSE THEY FEEL BEAUTIFUL FOR THE FIRST TIME IN THEIR LIFE. WHAT IS THE PLEASURE YOU WALK AWAY WITH AFTER ONE OF YOUR "DAY OF BEAUTY" EVENTS AT THE LA CHILDREN'S HOSPITAL?

MM: I love the kids and their families. There are many laughs and tears in the day. The pleasure is in making new friends, which we always do, and in seeing the kids have fun. It means so much when families tell me they haven't seen their son or daughter smile in a such a long time and how much the event brightened all their days.

NB: IN WHAT WAY DO YOU SEE "DAY OF BEAUTY" IMPACTING PEOPLE'S LIVES LONG TERM?

MM: I don't know really. I just know that the kids and parents enjoy themselves on that day. From what the parents and children tell us, it also gives them something to look forward to.
NB: WHAT ARE SOME SUGGESTIONS FOR THOSE WANTING TO START THIS UP IN THEIR OWN COMMUNITIES?

MM: I would contact the local hospital to gage their interest and to hear what parameters they have. Next, organize your friends or like minded people through places like craigslist or your local paper to join you. Once you do, assign different tasks to them. One can call beauty salons to get make up and hair people to volunteer. Others can call clothing companies, hair and beauty product companies or toy companies to donate items etc. Others can contact local press to cover the event. The press coverage repays any sponsors or donors. You'll discover nearly everyone wants to help in a cause of this kind.

NB: CAN YOU GIVE US A FEW CONSTRUCTIVE TIPS ON CREATING A SUCCESSFUL EVENT DAY?
MM: Gather like minded people to help. Assign specific tasks to each person involved. Reach out to as many donors as possible for gift items, services or food. Work as hard on the event's presentation – the right look helps to inspire and enhance. Invite press to get publicity to insure your sponsors' return next year and to spread the word for your cause. I struggle with this as I never want to exploit the cause or people involved and I certainly don't do the event for credit, however, you want the event to be successful enough to truly help the cause and this is a means to that end. In our case, the hospital assures us that the kids love the cameras and the attention and that spreading the word inspires others to do more, too! 
NB: WHAT ARE THE STAND OUT MOMENTS FOR YOU DURING THESE DAYS OF BEAUTY?
MM: What always stands out most is the tremendous spirit, courage and tenacity of the kids. I appreciate them more and more each year we do the event. 
NB: ANY FINAL WORDS OF WISDOM YOU'D LIKE TO SHARE REGARDING CHARITABLE LIVING?

MM: Abe LIncoln was quoted  as saying "To ease another's heartache is to forget one's own."  We all carry pain. We all get depressed or have down moments. There is truly no better cure all than charity work.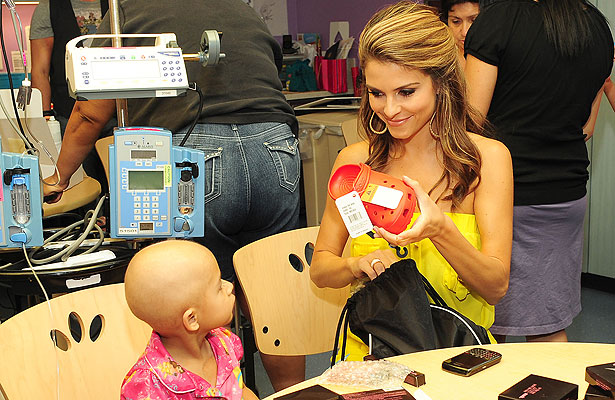 Maria Menounos shares some goodies with a little girl at her "Day of Beauty" Event Los Angeles.